Okay, seems this is one of the most difficult type of stages to build up. Remember stage 1-1 on SOR2? How about the arcades in stage 3-2? Or the jungle in 6-2? Or in Final Fight 3 stage 2-2 going upwards? Some beat 'em ups started to use diagonal stages to add more depth and style on them and a modder also wants to use these elements in their works but... how to make them work properly? Here's some basic tips how to make them work... at least the traditional style of going from up to down... or from down to up.
What do you need:
1) SORmaker unlocked. Duh.
FPG edit. Double duh!
2) A fpg with a layer going beyond the typical 240 height (most modders would use a double sized vertical layer at 480, but you can go as down as you want, as long you also can go in straight as well).
3) A fpg with a map (almost a must, unless you want a whole free roaming place up and down, but sure it's gonna be a mess in the end).
4)
LOTS OF PATIENCE!
Okay, let's start with the first thing:
A) Design your stage.
If you want to build a stage that goes from up to down (say, like SOR2 1-1) put in mind that even though you start in a 240 height environment, when you put your stage settings in diagonal left/right on SORmaker, the stage will now scroll up and down as well, so you must design your stage thinking like that.
For instance, if you start from up to down, try to design the floor down the longer your scroll allows you too (of course, by using your map to lock your character at certain point). Here's an example (using LucasHB's Manhunt stage as sample):
Basically, you must think in the scrolling you can do not only from left to right (scroll X) but from up to down as well (scroll Y), and by setting the SORmaker stage in diagonal left/right you are making the engine to go up and down as well, and not only left or right.
In fact, the design of your level must be done at the same time with your map level as well since you'll start figuring out the paths and routes it will be taking and how it will be going down or up. See the example below (using Charco's v4 remade stage 1-1).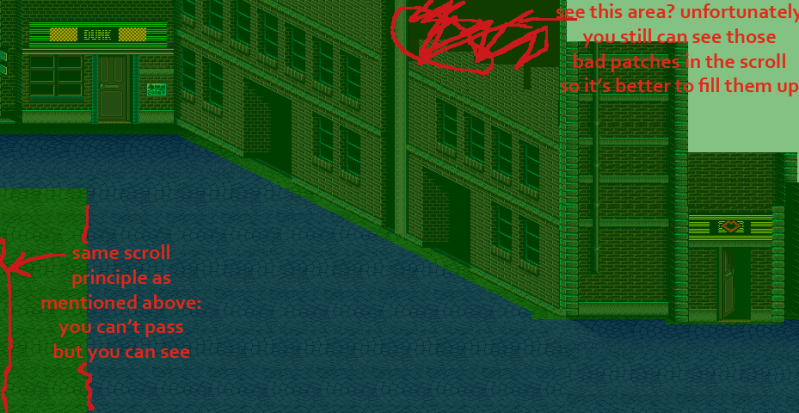 With this get up you'd be able to have a nice diagonal walkable zone without problems.